Case Study
Powering Digital Careers with Reed Screening
Together we set out to challenge the status quo in employment screening by proving the potential for instant verifications. Konfir leverages Open Banking, Payroll, and HR integrations to maximise employee coverage and minimise turnaround time for every request.
Enter your email below to access the full case study.
To speak to Reed Screening about their full suite of screening services, contact screening.enquiries@reed.com.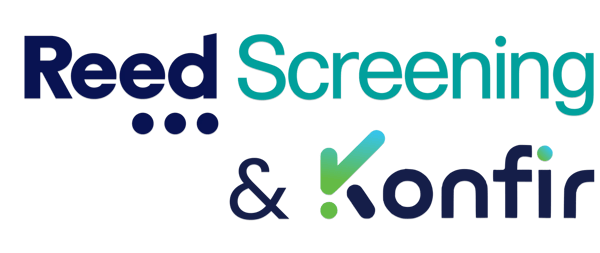 Instant Impact
Positively shifting KPIs
Incorporating instant employment verification into background checks mitigates candidate risk, saves time, and reduces cost.
Through our work with Reed Screening, we reduced turn around time, improved return rate, and removed the need for cross-checks.
Sign up below to try Konfir for free and see the results for yourself
"60% of employers believe that referencing is the slowest part of the hiring process. Since starting with Konfir - we've seen a reduction in the time taken to complete a verification, allowing us to deploy assets elsewhere in our business."
Harness the power of instant data
Benefits for employers
Onboard faster
Over 43% of verifications are completed in under 3 hours, and 70% in under 1 day
Lower costs
New verifications can be requested in less than 1 minute so your team can focus on more valuable work
Secure by design
100% GDPR compliant. Konfir achieves and maintains the highest levels of security standards
Reduce error and fraud
By going straight to the source, your team and candidates deal with less manual documents
TESTIMONIALS
User feedback
"All good and most importantly, trustworthy"
"The conversion rate is much higher than I expected. Even though it's new, our candidates seem comfortable verifying via Konfir"
"The process was simple and effective. For a young company, it was a smooth process that you would usually find from a larger firm"
"If everything was done online via Konfir it would be much easier. We would just send a link and chase. Currently there's people I'm still sending letters to..."
Joint blog posts
Together we're rethinking employment verifications
We've partnered with Reed Screening to begin offering instant employment verifications across the UK. The move is set to overhaul the outdated employment referencing process by saving time while putting employees back in control of their data.
Verifications in the UK - sizing the problem
Over the last few months, we've been analysing the market and mapping the data in partnership with Reed Screening. While we all "know" the process could be improved, the data tells the full story.
FAQ
Do you have any questions?
How does Konfir work?
Employers can use Konfir to verify the employment details of candidates. Once a verification is submitted, candidates are notfied via SMS to consent and sync their data sources. The data is then pulled, verified, and surfaced to employers in their account.
How long does the process take?
Setting up an account takes 5 minutes, while sending a verification takes 1 minute, and verifications are processed instantly upon candidate approval.
Is Konfir safe to use?
Konfir is fully hosted on AWS, which benefits from world-class network and infrastructure security. Unlike the traditional approach to verifying through email, Konfir users have complete control over who has access to their information. Konfir is GDPR compliant, ICO registered, and on track to being ISO 27001 certified in Q2 of this year.
How does Konfir charge?
We charge when an activity is 'connected'. This means that Konfir has successfully accessed a data source from Payroll or Open Banking for the period in question.
More info here: www.konfir.com/what-is-an-activity/