Securely prove your employment history
Speed up your employment referencing process by sharing your data through Konfir
🔒
Bank grade security
🔕 Previous employers not contacted
⏩ Get to work quicker
🤔 If you've been asked to use Konfir, follow the link we sent you via SMS & Email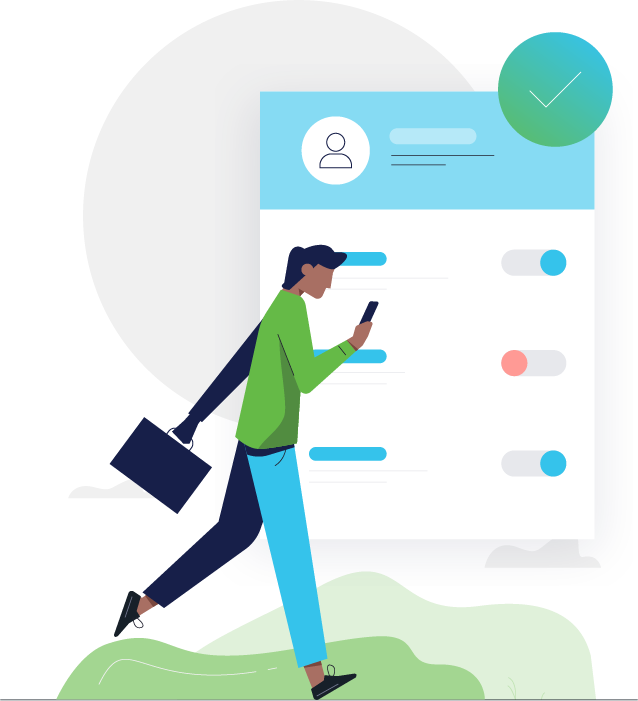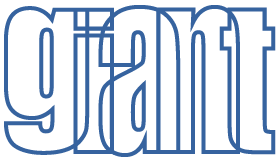 Who are we?
Konfir is a platform that enables you to share your verified employment history quickly, conveniently, and with your consent. By leveraging our Open Banking and Payroll system integrations, you can share your verified employment information in a few clicks.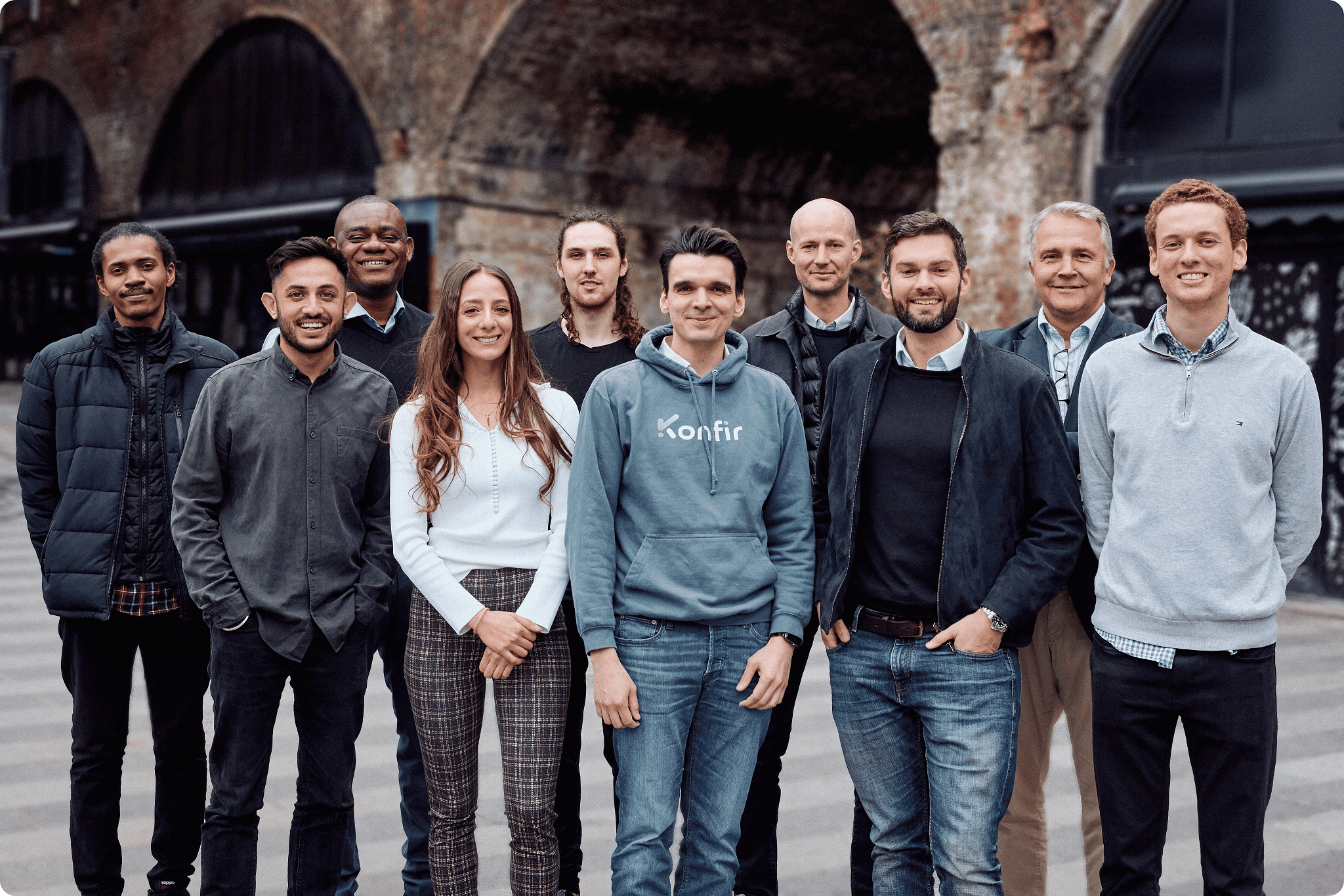 Speed
Less than one minute to complete
Discretion
Previous employer not contacted
Streamlining
Expedite the onboarding process
Privacy
100% GDPR compliant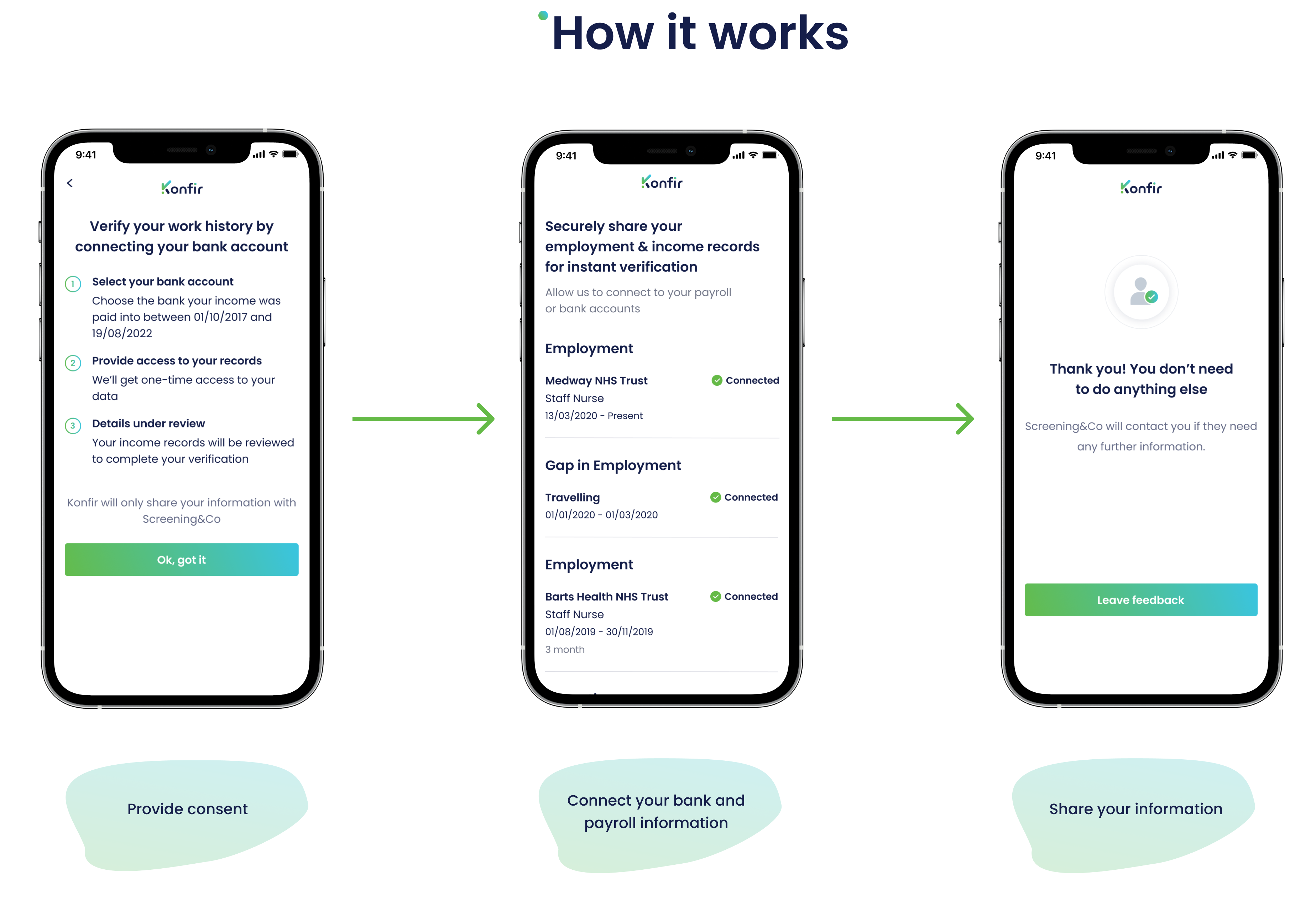 What is Konfir?
Konfir is a third-party verification service that works with background checkers and employers. We enable you to securely share your single-use employment data with your explicit consent.
How do I know the process is secure?
Konfir is fully hosted by AWS, which benefits from world-class network and infrastructure security. Unlike the traditional approach to verifying through email, Konfir users have complete control over who has access to their information. We're GDPR compliant, ICO registered, and pending ISO 27001 certification.
Who will see my data?
Only the organisation that requested your information will be able to see data from Konfir.
Is it free?
Konfir is 100% free of charge for candidates.
Will my employer be notified?
No. Your employer will not be notified.
Who can use Konfir?
Any UK based employee can use Konfir.
How is my data accessed?
Konfir uses proprietary banking and payroll integrations, allowing you to instantly share your data. We never access any of your personal information without your prior consent.
What data is shared?
Typically this will include income transactions from your bank account, and employment related information (such as your dates of employment and start date) from your payroll account. No spending data will be returned.

The exact data points will depend on what checks are required by your prospective employer. If data isn't needed, we won't ask you to provide it.
Does it impact my credit score?
Using Konfir will not impact your credit score. We do not receive data from, send data to, or otherwise interact with any credit referencing agencies to keep your information as secure as possible.
Recent blog posts
Why digital verification are safer
Across the board, verifications of all types have moved into the digital age, and with good reason. Not only is the process faster and lower cost, but it's also fundamentally safer.
How we've built Konfir around GDPR
At Konfir, our business model is based on the secure, user-permitted sharing of data. Because of this, GDPR has been a guiding structure that aids the design of our process flows, as opposed to being a hurdle.